The most vital aspect of the support provided at Angela's School is probably difficult for teachers in international schools to evaluate.
It comprises the help given with the transition from a foreign education system to the requirements of a local international school. Often a tremendous adjustment is needed by all members of  the family.  Angela's School offers a welcoming, supportive and secure environment for the children, and at the same time, a rich and dynamic learning experience.
We promote integration with the local community, socialising and making new friends with other learners at the centre and at shared birthday parties: –
Both Michael and Angela benefitted from an excellent education system in Zimbabwe when it was a British colony and continue to emphasise the same basic values which the students are expected to acquire. These include traditional values such as:
Respect for other learners, teachers and the community
Good behaviour including polite greetings and farewells
A positive attitude towards learning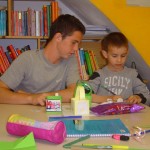 The child that enters international school is often very different to the child that entered Angela's School only a few months earlier. This is what we call  the 'Magic Factor'.