Where do they come from?   
Many learners come to Angela's School directly from an international school after an initial  interview or entrance assessment. 
Many schools offer conditional places subject to an improvement in the level of English, or other learning skills. Learners come to Angela's School to prepare for entry into the international school environment.  They may be asked to repeat the entry assessment at  a later date, or the school may accept our own internal assessment or progress report.
Some families contact us directly before embarking on their search for schools along the coast. Now, with waiting lists at international schools for many year groups, Angela's School provides a temporary solution of  interim schooling for children whose parents have yet to finalise their plans for a future living on the coast.  Native English learners not only keep up to date with their studies, but also make rapid progress in areas which may need attention.
We are also delighted to welcome short stay students, whose parents are on holiday or working on the coast for a limited period of period of time and are unable or do not wish to secure temporary school places for this time.
All this results in very rich classroom experience for your child.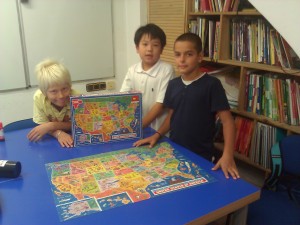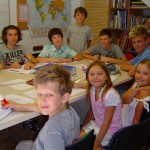 With learners coming from such a wide range of backgrounds, it is very common to have at least four different nationalities seated at the table all learning together!