100% Success Rate
Marbella Study Centre has a 100% success rate in placing students in international schools along the coast.
Parents, carers and international schools are often amazed at the rapid progress learners make in a relatively short time with us.
Before the children get into their schools, we maintain regular with the admissions staff and can provide progress and development reports on request.  We also undertake assessments mapped against UK National Curriculum Learning Objectives and the Common European Framework for Languages.  In addition, we are asked to comment on the learner's attitude towards learning, their social and classroom behaviour and the level of support they receive in the home.
After they get into their schools, the staff at Marbella Study Centre are always keen to be updated on the progress of their ex-students.   Our regular visits to the international schools help to keep us informed, and many children and parents continue to keep in touch years later.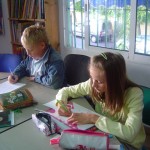 Parents are reassured that their children can return to us at any time for extra tuition or help with homework until they feel completely secure and confident in their new school.
Our Summer Support Classes and Learning Support Sessions will give vital assistance to your child after they have entered their chosen school.