MARBELLA STUDY CENTRE IS OPEN THROUGHOUT JULY & AUGUST!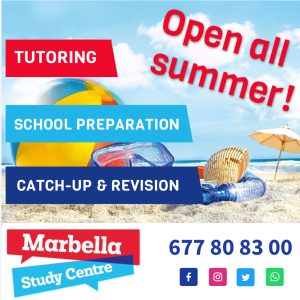 We offer small group, family group and one-to-one lessons in our centres in the east of Marbella, which have been adapted to meet the latest protocols for safety and hygiene. We also offer online classes using Google for Education digital tools.
International school preparation
Will your child be entering international school soon? We can prepare them to enter their chosen school with improved English skills and greater confidence.
UK curriculum subject tutoring
Is your child struggling with some school subjects?  We can work with your child to re-teach and revise areas of difficulty.
Primary & secondary school support
Was your child's last school report not as good as expected? Did your child find their classes at international school hard to follow last year? We can help your child catch up and meet the challenges of the new school year with greater confidence.
Home-schooling support
Is your child being home-schooled? We can provide online and face-to-face support sessions to ensure that your child is meeting curriculum goals.
International and UK school entrance exams/11+/13+/UKiset
Will your child be taking a school entrance exam soon? We can prepare your child for their tests and can even arrange for testing to take place at our centre.
Did your child struggle with the demands of Year 10? Will they need some extra support with the Year 11 curriculum next year? We can teach and revise Year 10 IGCSE curriculum content so that your child approaches Year 11 with confidence and improved study skills.
Independent educational assessments
Are you concerned about your child's progress at school? Would you like your child to move from the Spanish to international school system? We can perform independent educational assessments to help measure your child's performance against UK curriculum objectives; identify strengths and weaknesses and provide personalised learning support programmes to help your child reach their potential.
Intensive English courses
Are you staying in Marbella on a temporary basis, perhaps on holiday? Our experienced native English teachers can work with your child to help them improve their level of English and communicate with greater fluency and confidence.
Lessons take place at Marbella Study Centre on a one-to-one basis or in small groups. Online classes are always available. Consult our 2023 Timetable or contact us.