Irina Panushkina    High-flying Irina started her international academic career at Angela's School at the age of ten when she arrived on the Costa del Sol, doing an intensive English language programme to prepare her for entry into the prestigious Aloha College  Marbella international school in Spain.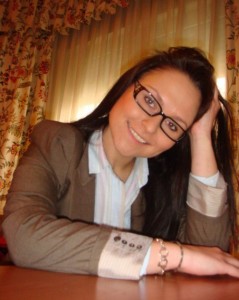 During her initial years of study at Aloha College she continued to receive regular tutorial support from Angela's School, going on to gain 10 top-grade IGCSE's.
By the time she entered the IB programme she was a confident and independent learner, gaining 36 IB points with A* in the Extended and Theory of Knowledge Essays.  But she always knew that she could rely on Angela's School for any ongoing support and advice she needed.
The important social skills that were implanted early on at Angela's School laid the foundation for Irina to become a popular classmate with students of all nationalities, who elected her Prefect throughout the 6th Form (Years 11 and 12).
A successful university career followed at Universidad Alfonso X El Sabio (UAX)Madrid, where Irina gained the second best overall grade in the 4-year degree programme.   We were delighted that Irina continued to keep in touch with us throughout her university studies to share news of her many achievements including: –
Erasmus Exchange Programme – 6 months study in Italy
Member of the Board of the ESN UAX Section of the Erasmus Student Network
Spanish representative in the Inter-American Human Rights Moot Court Competition
Winner of an internal university competition to undertake an internship in a law office in Washington,USA
Irina is currently enjoying a successful career as the in-house lawyer for a major mining company in Moscow.  She is a member of the Member of the Inter-American Bar Association, the Málaga Bar and is a consultant on international and UK contract law.
Angela's School is very proud of Irina's achievements and is privileged to have been at her side along her path to success.